This year end is different. 2012 was the hardest, most painful year of my life. Watching Samuel struggle and in pain and losing him was more than I could bear. My mind can't even fathom that he is really gone, its too much.
We miss his sweet smile,
giggles with Daddy,
brothers and sisters,
having fun,
his playful eyes,
, his curls,
his kisses
our family togetherness,
and so much more.
Pictures comfort and bring sadness. He taught so many people so much and brought to our family joy that is indescribable. He had special needs and with his absence I miss that beautiful special world. I don't want him to be suffering, but I selfishly want my little boy here.
As we face this new year without our little boy, I pray that the Lord will continue to use Samuel's life to influence and Teach. I also pray He will continue to bring comfort and Hope to those in pain.
I can't wait for the day when beauty will rise! I'm thankful today for the Hope that one day all of our pain will be gone and we will be whole again.
"Out of these ashes... beauty will rise and we will dance among the ruins We will see Him with our own eyes Out of these ashes... beauty will rise For we know, joy is coming in the morning... in the morning..."
I wanted to share some treasured memories of this year. Thankful for each day that we were blessed with Samuel and storing these moments in my heart forever.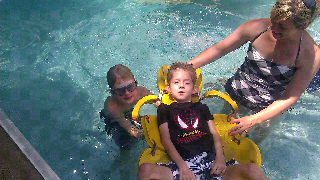 A sunset he painted for us after his heaven going.